It's that time of year again!
Ghost stories, costumes, candy... and history of course.
In honor of Archives Month, I thought I would take a look at some historical societies and sites and how they remember past Halloweens!
Here at our very own Wisconsin Historical Society, you can find some great Halloween photos from Halloweens past simply by going to WisconsinHistory.org and typing 'Halloween' into the search bar. One of my favorites is this creepy window display: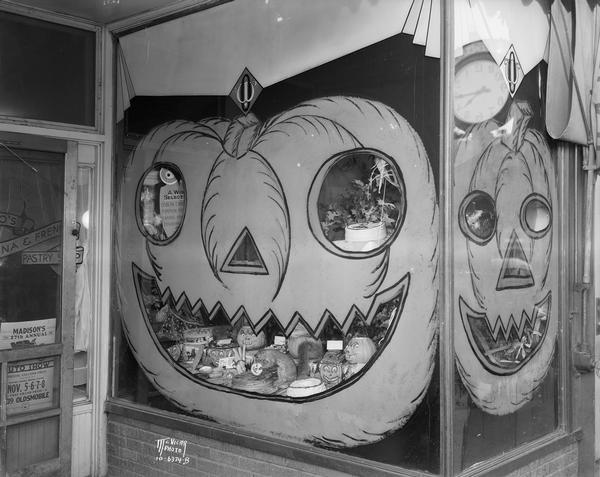 Image ID: 14607
At Old World Wisconsin, one of our historic sites, they'll spend Halloween night telling ghost stories and folklore, finding their way through a maze, making crafts, and of course eating around a bonfire for their annual Halloween Legends and Lore event.
Meanwhile our neighbors at the Minnesota Historical Society pick a past Halloween costume photo to feature every year. Here's last year's winner:
"Pregnant Angel" Halloween Costume
My hometown in South Dakota has annual spooky events at our local haunted house, the Adams House Museum, which was home to one of Deadwood's wealthy and philanthropic families during the Black Hills gold rush. In years past, there have been Halloween sleepovers, dances, and ghost tours. This year they're conducting a paranormal investigation at this historic haunt:
Historic Adams House
Finally, last year the National Archives came out with this awesome article in their NARAtions blog which featured some of their creepiest collection items, including diagrams of "life preserving coffins", and the horrors of "mystery meat": Weird Records from the Depths of the Archives
How does your organization celebrate Halloween?
- Rebecca Rodriguez, 2nd year student